15 Dec

A Sailing Lesson

Over recent months I have been watching my 10 year old nephew, Victory, learn dinghy sailing. The small local sailing club organises youth training and activity weeks, all staffed by cheerful volunteers whose love of sailing inspires them to give their time to try to teach and wrangle a load of easily distractable children. As one instructor says " if you have one boy you have one boy's help, if you have two boys you have half a boy's help and if you have three boys you have no boy's help" !

I have watched them crash around, go backwards, sideways and upside down at speed, capsize for want of anything better to do and generally create a huddle of chaos on the estuary. The poor old boat moored fairly near the launching slipway suffers most…"Sandpiper" is its name and I feel for it as it is crashed into regularly with a cheerful "oops"! Then a couple of weeks ago something magical happened. Victory suddenly began sailing in a whole new way. I wondered and watched and thought "oh his confidence has grown". Then, it suddenly struck me:

His BODY caught up with the theory.
His BODY runs the sailing show now.
His BODY knows what to do.

This became very clear this weekend when he joined the racing meet at the club. The only child present, tiny amongst the adults for the briefing, looking intently at the course buoys, debating about a smaller sail ( it was pretty windy), fiddling about with ropes and things, talking to the other competitors about how best to proceed and generally looking very nervous.
Then, he pushed off into the estuary, picked up the ropes and the magic happened.
Within a couple of seconds a "settling in" within him was visible.
His BODY was back at the helm.
That's when I found tears in my eyes.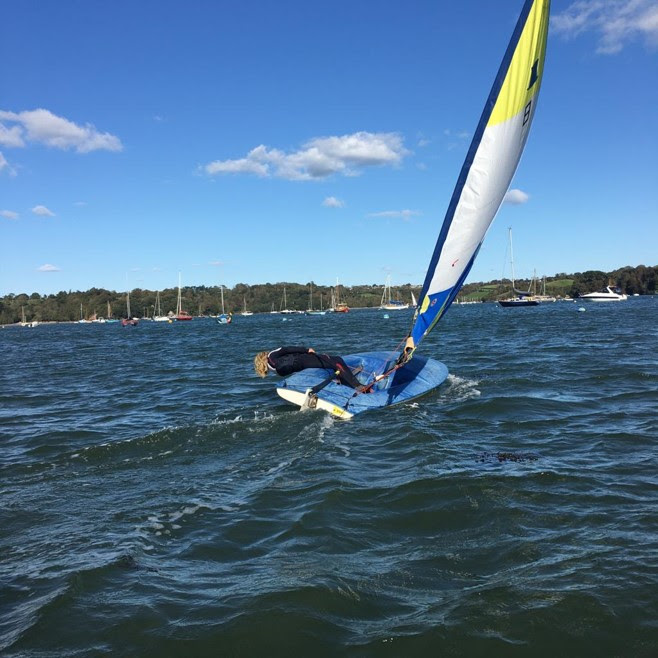 Like a lot of small boys, Victory can be very competitive. He came very much last. Spent most of the race miles behind the other boats, me and my sister scanning the far estuary for sight of a lone yellow and blue sail. Capsized a couple of times. Missed a mark or two. Had no one to talk to (or yell at!) the entire time.
When he finally came back in I was wondering and slightly worrying about how he would be feeling having spent the race alone and behind all the " big boys ".
He was smiling from ear to ear.
His body had had the best time.
That's Victory's victory –  right there.
Fiona Withers
Certified Practitioner & Teacher,